Social Responsibility At Pumba Safaris
Despite the economic upswing in recent years, Tanzania is a very poor country. The monthly average income is less than $ 30, unemployment is very high. Many tour operators use this situation and do not pay their travel guides any wages. The prospect of 10-15 $ in tips per day is enough motivation for most guides. But: If no tip is paid the guide goes away empty-handed. For this reason a guide at Pumba Safaris is appropriately remunerated.
If you are satisfied with the work of the guide, you are also welcome to pay a tip – there is no better way to support the locals!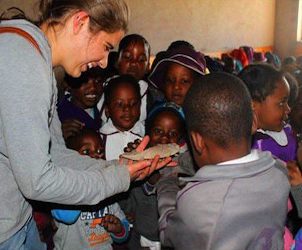 Since not everybody benefits from the improved economic conditions, we have decided to support a non-profit organization. Of all revenues we make with safaris, we donate 1% to the SOS Children's Village in Arusha.