Social Responsibility At Pumba Safaris
Despite the economic upswing in recent years, Tanzania is a very poor country. The monthly average income is less than $ 30, unemployment is very high. Many tour operators use this situation and do not pay their travel guides any wages. The prospect of 10-15 $ in tips per day is enough motivation for most guides. But: If no tip is paid the guide goes away empty-handed. For this reason, a guide at Pumba Safaris is appropriately remunerated.
If you are satisfied with the work of the guide, you are also welcome to pay a tip – there is no better way to support the locals! this is how Social Responsibility in Tanzania works out.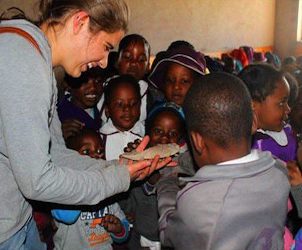 In order to address the fact that not everyone benefits equally from improved economic conditions. we have made a conscious decision to support a non-profit organization. As part of our commitment, we pledge to donate 1% of all revenues. This was generated from our safaris to the SOS Children's Village in Arusha. By contributing to this worthy, we hope to make a positive impact on the lives of vulnerable children. Therefore, finally, help to create a more equitable society. This is our social responsibility Tanzania.